ACF — Members of Responsible Finance
Published: 06/05/22 | CATEGORY: News | AUTHOR: Emily
We are delighted to announce that we are now supporters and members of Responsible Finance — the voice of the responsible finance industry working to increase access to fair finance.
Both ACF and Responsible Finance share a passionate commitment to give people, particularly those excluded from mainstream services, access to finance.
"Our vision is to create a fair financial system in the UK by scaling up the community development finance sector. This will enable investment to flow into communities to create positive economic, social and environmental impact.
No viable business left unsupported; no person forces into unacceptable hardship; no social enterprise not able to realise its goal to make the world a better place." – Responsible Finance
At ACF, we remove the gut-wrenching worries of interest and debt. We invite people who often face barriers to financial and business support, to start their own enterprise and become financially independent — with total support, mentorship and opportunities for growth and innovation.
We're looking forward to working closely with Responsible Finance to achieve our goals and create a fairer society.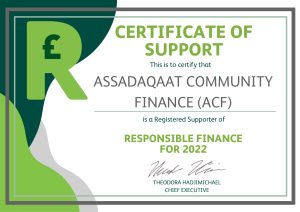 Back to News & Blogs