5 Reasons you should donate to ACF this Ramadan
Published: 05/04/22 | CATEGORY: Donations | AUTHOR: Emily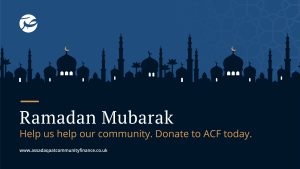 Ramadan Mubarak!
As we know, charity support increases worldwide during Ramadan, enabling organisations to make an even bigger difference to the people and communities they support.
Assadaqaat Community Finance (ACF) is firmly rooted in the Islamic principles of benevolence (Assadaqaat). Philanthropy and people are at the heart of what we do, and we wouldn't be able to achieve half as much without the goodwill and generosity of our community.
As we enter the month of Ramadan, we hope to raise as much money as possible to support entrepreneurs across the UK — especially those in underrepresented, underprivileged, and disenfranchised communities.
But why exactly should you donate to Assadaqaat Community Finance? We can think of at least 5 reasons — and here they are.
1. We rely on people like you
The very premise of our Community Finance model is just that — community. We can only do what we do through the generosity of people. Yes, we also rely on government support and corporate partnerships — but it's the support of our community that allows us to reach even further. Whether it's a one-off or monthly donation, the money we receive from people like you enables us to help aspiring entrepreneurs realise their dreams, gain new skills, and be financially independent.
2. We focus on the people who need the most support
We're an inclusive organisation — we help all people. But we focus on women and youth in the black, asian, and minority ethnic communities because they face the biggest barriers when it comes to accessing support. Time and time again, we see people excluded from financial support and access to opportunities because of gender, race, ethnicity and background. We're on a mission to change that through our Women's Entrepreneurship Programme and Youth Enterprise Programme. Through these programmes, we give the people who need it most, the confidence, skills and finances necessary to start their own business — creating a fairer and more inclusive society.
3. We encourage innovation
At ACF, we don't rest on our laurels — we champion constant progress and new ways of thinking. We unite exciting entrepreneurial minds to bring positive change to society. Particularly in our Youth Enterprise Programme, we work to inspire imagination and enhance understanding about innovative entrepreneurial processes and solutions. We provide opportunities for participants to propose new ideas and give them the tools to realise their dreams. We work under the pretence that the sky's the limit. By donating to ACF, you are opening the door to an exciting future.
4. We work towards Global Goals
In 2015, world leaders agreed to 17 Global Goals (also known as the Sustainable Development Goals or SDGs). You may have heard of the Global Goals campaign by Project Everyone — if not, here's what they have to say:
"We all know that we face big challenges in today's world: poverty, hunger, inequality and climate change are just some of the issues we need to address urgently.
Big challenges need bold action to overcome them, and that is where the Global Goals come in. They are a plan agreed to by all world leaders to build a greener, fairer, better world by 2030, and we all have a role in achieving them." [source: Global Goals]
The 17 Global Goals are:
1. No poverty
2. Zero hunger
3. Good health and wellbeing
4. Quality education
5. Gender equality
6. Clean water and sanitation
7. Affordable and clean energy
8. Decent work and economic growth
9. Industry innovation and infrastructure
10. Reduced inequalities
11. Sustainable cities and communities
12. Responsible consumption and production
13. Climate action
14. Life below water
15. Life on land
16. Peace, justice and strong institutions
17. Partnerships for the goals
Through our work to stop financial exclusion, strengthen communities and the economy, encourage innovation, ensure gender equality in business, provide access to new skills and eradicate poverty, we are playing an important role in helping achieve these crucial goals. By donating to ACF, you are too.
5. You are investing in the future
By donating to ACF, you are helping aspiring entrepreneurs create successful businesses. The result? Financially stable business owners who can fund the next generation of aspiring entrepreneurs. This is what we call the ACF cycle. Because we know, if we invest in the entrepreneurs of today, they will become the funders of tomorrow. Your donation will remain in a constant cycle of support. This is what ACF is all about — long-term solutions, continuous philanthropy, and real societal change.
Donate to ACF today — visit our donation page to learn how. And from the entire ACF team, thank you.
Back to News & Blogs